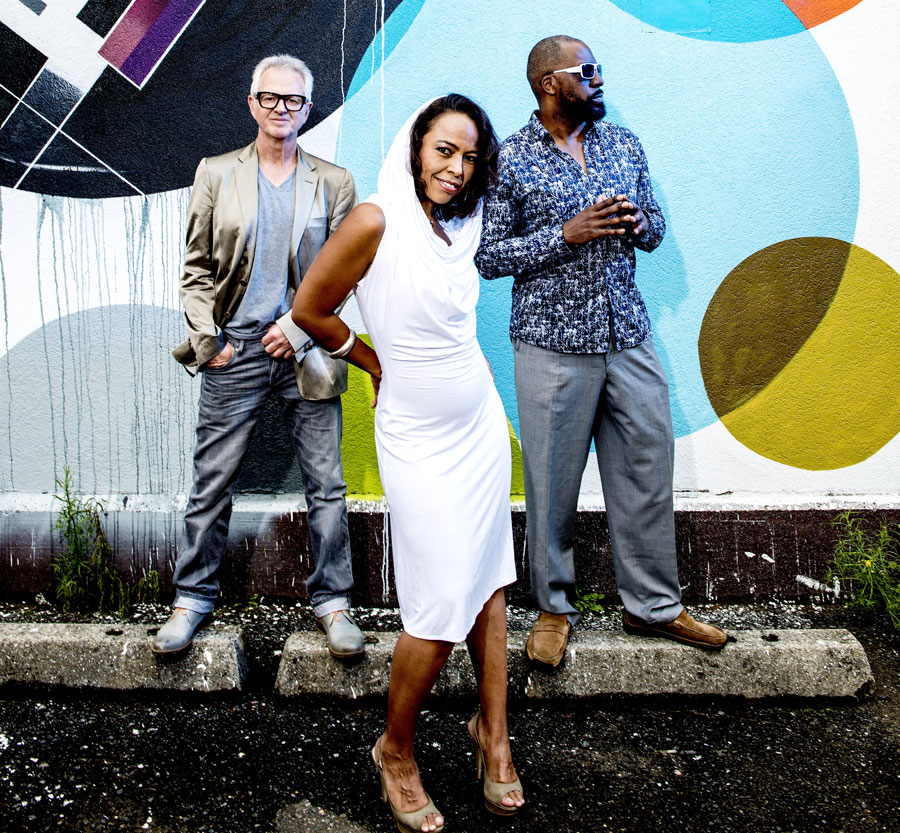 Anfang der 2000er Jahre schwappte eine neue Musikwelle in die Cocktailbars und Lounge Musik war geboren. De-Phazz durfte da nicht fehlen. Schnell avancierte sie zu Geheimtipp-Darlings der Fernsehredakteure, die die retro-elektronischen Klänge der Band gerne auf Heavy Rotation unter Lifestyle- wie Nachrichtenbeiträgen legten und so die ganze Nation in ästhetische Klangteppiche hüllten. Durch viele Sampler wie "Buddha Bar", "Café del Mar" oder "Hotel Costes" gelangten Songs wie "The Mambo Craze" in die ganze Welt.  De-Phazz Klänge wanderten rund um den Globus, ob ins Backpacker Hostel nach Nepal oder ins Dissidententreff nach Novosibirsk. Von Argentinien bis Zypern: alle hörten De-Phazz! Der Name war immer schon etwas schwergängig auf der Zunge. Viele kennen bis heute die Musik besser als den Namen der Band – und kaum einer weiß, dass die Band im beschaulichen Heidelberg entstanden ist. Somit ist De-Phazz zwar ein erfolgreicher Export "Made in Germany", dabei aber wahrscheinlich die unbekannteste bekannteste Band Deutschlands!Dann kam der große Knall und Lounge war plötzlich out. Gitarren wurden wieder wie Äxte geschwungen und Easy Listening war endgültig passé. Die trendverwöhnte Fankurve wanderte ab in die Zweierbeziehung oder Patchwork-Familie, und die Plattenfirmen schafften sich durch das neue, frei tauschbare Medium mp3 ab. Doch das Internet – egal ob Fluch oder Segen – trug die Musik von De-Phazz weiter hinaus in die Welt. Insbesondere im Osten glomm die Flamme weiter und die Band verlagerte ihren Auftrittsschwerpunkt über Ungarn, Tschechien, die Ukraine und Russland bis nach Kasachstan. Dort braucht man sie noch, die eingängigen Klänge und die spöttischen Texte voll wohldosierter Ironie und leiser Gesellschaftskritik. Die Soundcollagen aus analogen oder elektronischen Klängen, erdigen Bläsern und schönen Stimmen sind wie Klangkulissen, die sich als vielschichtiges Ohrkonfekt besonders beim privaten Kopfhörergenuss entfalten. Die Konzerte von De-Phazz dagegen entführen ihr Publikum in eine Fantasiewelt, die Auftritte sind Gesamtkunstwerke aus starken Stimmen, betörender Live- und elektronisch erzeugter Musik und ausgewogenen, live gemixten Videococktails. Pit Baumgartner arbeitet darüber hinaus als DJ und Remixer u.a. für Kool & the Gang feat. Lauryn Hill, Boy George, Kurtis Blow, Morricone, A-ha, Ella Fitzgerald (Verve USA), Martin Böttcher, Alphaville, Hattler, Till Brönner, Klaus Doldinger u.v.a.
The lounge collective De-Phazz has always been more than just an open electronic project. So far the band has explored many genres from club sounds, big band arrangements, trip hop to lounge jazz. Anything from rock guitars or classic violins as well as reggae dance hall beats is possible on the 9 Albums the band has released since it first emerged in 1997. De-Phazz is a household name in jazz lounge circles but has also sailed the mainstream pop business with their poignant hit "The Mambo Craze". Exquisite sounds and the tasteful melange of the old and new have always been the bands upmost priority. Their stage shows are sheer audio- visual pleasure, as they combine tantalizing vocals with hand mixed video cocktails. De-Phazz music is original, yet sometimes based on samples from days long past from the times when the jazz clubs boiled over with steaming energy and handmade driving grooves. Now it's time to go back to the roots and explore the unknown. What if De-Phazz had emerged in a time when there were no electronics? What path might they have chosen? On their numerous albums they have always relied on smooth, intricate mixes of sounds and vocals for easy listening yet never fully explored the vocal potential of their singers enough. Pat Appleton has proved her intense talent in the past on De-Phazz recordings as well as live on stage, so it 's logically high time to focus on the voice and upon the candid lyrics they perform.
According to Wikipedia: De-Phazz is a downtempo jazz ensemble integrating modern turntablism and elements of soul, Latin, trip hop and drum and bass into a lounge music sound. De-Phazz is led by Pit Baumgartner, a German producer who has varied the lineup of artists for every new album. Some regular members are Barbara Lahr, Karl Frierson and Pat Appleton. Since the release of  "Detunized Gravity" and "Godsdog", De-Phazz have appeared on the radar of listeners of equally innovative and sample-driven jazz by the likes of Amon Tobin and The Cinematic Orchestra. The band has released records on Mole Listening Pearls and Universal Jazz Germany along with single releases on Edel Records and United Recordings, and also remixes existing material. Although De-Phazz functions well as an open project in a studio setting there are some obvious limitations on a live stage. There are different formations that can be implemented: De-Phazz Classic – electronic video show with live muscians and live vocalists), the De-Phazz Vintage DJ Set with vocalists and a solo instrumentalist as well as the De-Phazz Private jazz combo set with four musicians, one DJ and vocalists. Pit Baumgartner produced remixes for Kool & the Gang feat. Lauryn Hill, Boy George, Kurtis Blow, Morricone, A-ha, Ella Fitzgerald (Verve USA), Martin Böttcher, Alphaville, Hattler, Till Brönner, Klaus Doldinger and many others.
Find below a list of regular protagonists in the studio as well as on stage:
Pit Baumgartner (producer, Ukulele & Effects), Pat Appleton (songwriter & vocalist), Karl Frierson (songwriter & vocalist), Barbara Lahr (songwriter and vocalist), Oli Rubow (drums, percussion/effects), Bernd Windisch (bass player and computer genius), Frank Spaniol (baritone saxophone/ bass clarinet, flute), Marcus Bartelt – baritone saxophone/ bass clarinet/flute, Ulf Kleiner – Rhodes/piano, Markus Bodenseh – double bass
On the albums they have had many guests: Otto Engelhardt (songwriter, composition and trombone), Joo Kraus (trumpet & composition), Adax Doersam (composition and guitars), Matthias Doersam (composition and Saxophone), Eckes Malz (piano & composition), Helmut Hattler (bass, composition), Sandy W. (vocals).
Zwei kurze Ausschnitte – DE-PHAZZ
Der KÜNSTLERHAFEN übernimmt:

 –Künstlerbetreuung/Management